uPVC Sash Windows for Conservation Areas
What is a conservation area?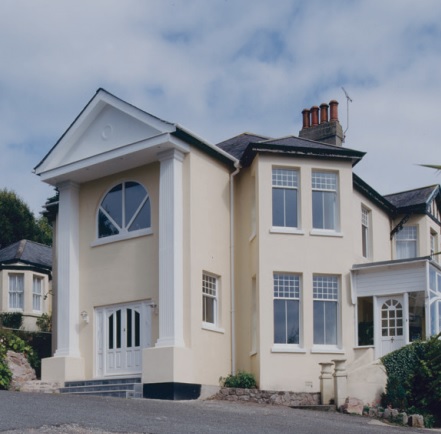 A wide range of properties can be affected by conservation regulations – owners of properties in historic town centres, quaint rural cottages and homes in model housing estates can all find themselves restricted by conservation legislation. So if you're lucky enough to live in a conservation area, you should always consult your local authority before making external alterations – you may need permission.
With the Rose Collection, though, you'll have a headstart. Our commitment to authenticity means that our sliding sash windows not only meet but in many cases exceed council requirements in some of the most sensitive conservation areas in the UK – and Rose Collection windows have been successfully installed in over 50. You'll still need permission from the local conservation officer, but in many cases Rose Collection windows have been deemed suitable.
Conservation areas: the rules
As many homeowners may know, properties that are in a conservation area will be subject to certain restrictions when it comes to carrying out work and renovation.
A conservation area is simply an area that is considered worthy of being preserved due to important architectural or historical interest. Buildings that fall within the boundary of the area will be protected by law against any unauthorised work being carried out on them. In order to complete work, homeowners will need to apply for consent from their local authority who will assess the project, and the products being used within it, to ensure that they maintain the period aesthetic of the area.
Many homeowners are unaware of these restrictions and can fall foul of the system. Unauthorised work carried out on a building within a conservation area can result in an unlimited fine. Thus finding products that have previously been approved for use in these areas can help you to stay on the right side of the law and avoid any costly legal challenges.
We pride ourselves on having a proactive approach to conservation
For a long time, uPVC was looked down on as an inferior material, with timber and aluminium treated as the only viable alternatives for high-end projects. Now, that's no longer the case. Thanks in no small part to constant product development on the part of companies like Roseview, many conservation officers now recognise the benefits of uPVC, with products like those in the Rose Collection managing to balance incredibly authentic timber aesthetics with fantastic performance.
At Roseview, we pride ourselves on our proactive approach to campaigning for uPVC – our Managing Director Willie Kerr is a member of the Glass and Glazing Federation's Traditional Window group, which spearheads efforts to educate and inform conservation officers and English Heritage on the extensive benefits of well-designed, conservation-sensitive replacement windows.
Traditional style and authentic aesthetics from Roseview
At Roseview, we're all about the details – the small features that might not seem much in isolation, but that together produce products that are near-indistinguishable from timber. Our highest specification window, the Ultimate Rose, can boast industry-leading slim sightlines, putty-effect glass lines, timber-style mechanical joints, and, of course, our iconic run-through sash horn.
More and more councils are being won over by the incomparable authenticity and performance of the Rose Collection. If you live in a conservation area, don't hesitate to get in touch!
Features that contribute to conservation approval
Full mechanical joints – traditional carpentry jointing
35mm slim meeting rail – true timber window proportions
Run-through sash horn – continuous part of the sash
Authentic woodgrain finish – looks and feels like timber
Slim mullion combinations – narrow 85mm mullion post between coupled windows
Bespoke traditional furniture
Why has the Rose Collection been approved for use?
Featuring a whole host of innovative design and aesthetic features, the Rose Collection has been approved for use in certain conservation areas due to its incredibly convincing looks and excellent thermal performance. There are many reasons to choose windows from the Rose Collection to improve your home. Amongst other things, choosing windows from the Rose Collection can help to significantly speed up your conservation area installation. Here are some of the main reasons to choose the The Rose Collection windows for your home:
1. Traditional mechanical jointing and astragal bars
Utilising the traditional mechanical jointing originally used in historic timber sash window manufacture, two models of uPVC sash windows in the Rose Collection possess a truly convincing heritage aesthetic. The mechanical joints of the Heritage and Ultimate Rose provide exceptional period style as well as improved thermal performance: perfect for the demands of homes in conservation areas. What's more, Georgian and Victorian style astragal bars can be easily fitted to our sashes, helping you to enhance the aesthetic of your home further.
2. Authentic woodgrain foils
Sash windows from the Rose Collection also utilise a range of woodgrain foil finishes for improved period looks. These foils emulate the specific grain of a species of timber, allowing you to make your uPVC sash window look like it is made from timber. Foils we offer here at the Rose Collection include Rosewood, Irish Oak, Golden Oak and many more. They are so convincing that many homeowners have trouble telling these windows and timber windows apart!
3. A stunning range of period hardware
The Charisma, Heritage and Ultimate Rose are also available with a stunning range of period hardware so that you can create the perfect style window for your home, and conservation area. Choose from a beautiful range of traditional-style handles, locks and ironmongery to further create the aesthetic of your dreams.
Conservation sash windows that make the grade
The Rose Collection has already enjoyed fantastic success in many historic regions across the UK. Conservation areas we have previously installed the Heritage, Charisma and Ultimate Rose in include areas such as Torfaen Council, Isle of Wight Conservation and the Lake District National Park. At Danby Lodge in Torquay, 30 rotting timber originals were replaced with the Ultimate Rose. Even more impressively, a major installation at Parkwood Hall School in Kent saw more than 400 timber originals replaced with Rose Collection vertical sliding sash windows.
In both cases, locals couldn't tell that the replacement windows were uPVC. It's something we hear quite often at Roseview – and as such it's no wonder our windows continue to be approved for use in conservation areas all around the country.