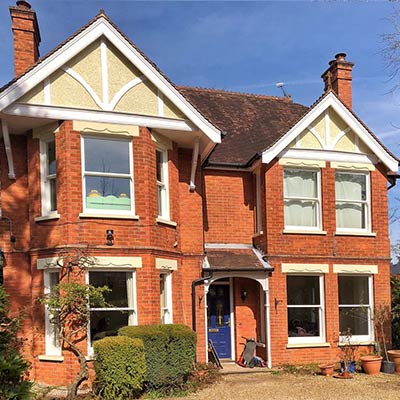 There's been much debate about the pros and cons of timber windows vs wood effect timber-alternative windows. It's true that not all installations are suited to uPVC, however, for many, uPVC wood effect windows may be the better choice. If you're planning to replace your windows and you're unsure whether to choose timber or uPVC, here are five differences between wood effect uPVC windows and timber windows.
1. Low Maintenance
One of the biggest benefits of wood effect timber-alternative windows over timber windows is the level of maintenance required to keep them in the best possible condition. While timber windows require repainting every five to ten years with uPVC windows, all they need is an occasional wipe down with warm soapy water to keep them functioning at their optimum level. Over the lifetime of the window this is a great way to save valuable time.
2. Cost-effective
Leading on from point number one, the low maintenance levels of uPVC over timber windows mean that you'll save a considerable amount of money over the lifetime of the window. Combine these savings with lower initial purchase costs and you'll find that uPVC wood effect windows are the most cost-effective option.
3. Thermally efficient
When it comes to thermal efficiency, modern uPVC windows are streets ahead of their old timber counterparts. Rose Collection sash windows, for example, are made using top quality, multi-chambered profiles and modern coated and gas filled glass units which help to trap heat generated inside the home and stop it from escaping. When you replace old timber windows with modern uPVC alternatives, you can seriously reduce your energy bills and lower your home's carbon emissions.
4. Safe and secure
uPVC wood effect windows like those from the Rose Collection provide excellent levels of home security. Old timber windows can be prone to break-ins if not properly maintained and left to deteriorate. With the Rose Collection, you'll have peace of mind that you're safe in your home and you can relax that your property is protected.
5. Weather resistant
Timber windows left unpainted for many years will gradually deteriorate. They can begin to rattle in strong winds and once water has penetrated the frame, it can be expensive to rectify any related problems. With wood effect uPVC windows on the other hand, their weather proof finish will repel even the most extreme British weather conditions.
If you'd like to find out more information about how you could benefit from the Rose Collection, get in touch today. Call us on 01234 712 657 or contact us online.