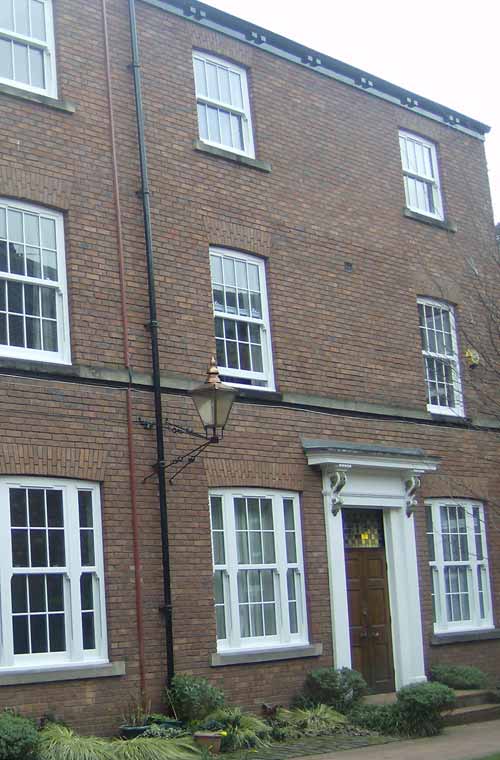 Georgian windows: the original sash window style
Georgian houses are perhaps, the most sought-after in the UK. Their imposing proportions, symmetrical architecture and classical design have made them as popular now as they ever have been. The nation's current interest in heritage and conservation has helped to fuel this popularity. During the Georgian period (1714 to 1830) tens of thousands of buildings were built across the UK. Usually made from brick or local stone, Georgian buildings ranged from large detached buildings to two or three storeyed terraced town houses.
Sash windows in Georgian properties
Almost all Georgian properties featured vertical sliding sash windows. These windows functioned on a series of weights and pulleys and the glass panes were usually separated into six panels on both the top and bottom sashes. The windows were separated in this way because 18th century glazing technology did not allow for the production of larger glass panes.
It is this six over six panel grid design which typifies the Georgian style. It accentuates the sense of symmetry of the whole property and provides the distinctively classical Georgian aesthetic.
Replacing Georgian sash windows with taste and authenticity
If you're lucky enough to live in a Georgian property, you'll understand that their original timber windows require lots of maintenance to keep them performing well. Unfortunately, many Georgian sash windows have been neglected and not maintained regularly enough. If timber windows have been compromised by water and begun to rot and deteriorate, the only solutions are replacement or expensive repair and refurbishment.
When you want to replace your failing Georgian windows with sash windows that provide modern levels of performance without compromising authenticity, the Rose Collection is an excellent choice. Our replica Georgian sash windows are made from high performance and low maintenance uPVC but to the naked eye they are almost indistinguishable from timber. With a wealth of period detailing including authentic Georgian bar configurations and a realistic woodgrain finish, Rose Collection Georgian windows will help to bring your Georgian home into the 21st century without any negative impact on their traditional aesthetic.
If you live in a Georgian property and you'd like to find out more about the Rose Collection, contact us today. Give us a call on 01234 712 657 or send us a message online.
Categories: uPVC Sash Windows