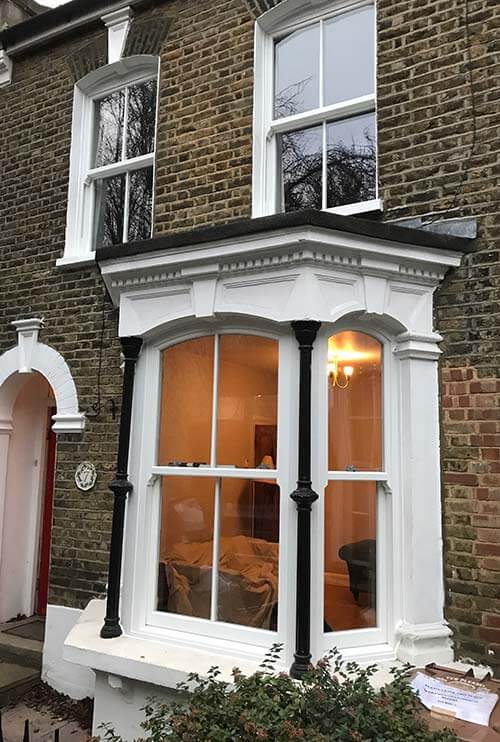 Our guide to popular window styles and options
When you work in the glazing industry, there are certain window features that are perennially popular with our customers. Because the Rose Collection is designed to faithfully replicate traditional windows, there are particular characteristics which are essential if you want a truly authentic aesthetic. If you live in a period property and you're thinking about replacing your windows, here are some of the designs and options you'll want to consider for your home.
Arches
Across the UK, there are thousands of properties with arched head windows. These curved windows are an integral part of our country's heritage and create a unique appearance to any property. At the Roseview factory, we have a dedicated team working on arches. We can create a variety of arched windows including true arches, rakes, gentle arched-heads and gothic arches. If you have a particular requirement, get in touch and we'll endeavour to create the perfect window for you.
Bays
Bay windows are great for bringing an abundance of natural light into the interior of a property. They are also an extremely popular style of window and can be found on properties throughout the UK. Originating in the Medieval period, Bay windows became popular during the Victorian era with their popularity continuing into the early 20th century.
Rose Collection sash windows can be specified in a variety of bay window configurations. From traditional box bays to 135 degree flared bay windows, we'll work with you to design the perfect window to meet your exact specifications.
Slim mullions
Mullions are the vertical dividers between sets of windows. On traditional timber windows, mullions are often very slim. Thanks to the modern techniques used to create the Rose Collection, our uPVC sash windows can feature super slim mullions which emulate the appearance of original timber while providing excellent levels of weather proofing.
While some window manufacturers create combination windows by simply joining two or more windows together, our slim mullion profile is far more authentic. When two windows are simply joined together a double section of outer frame is created where the two windows meet (about 130mm). With our Heritage Rose and Ultimate Rose, the outer frame join can be as small as 85mm – that's a massive difference in appearance.
Glass decorations
When you want a stained glass section incorporated into your new windows, get in touch and we'll work with you to find the best way to realise your new window's style. With bay windows in particular, decorative sections are extremely popular. We've even encapsulated original stained glass panels into new double glazed units to go into our windows.
Astragal bar designs
Astragal bars are an essential part of any traditional window. Originally used in the 17th and 18th centuries, when only small glass panes were available, they are now used for purely aesthetic purposes. The Rose Collection sliding sash windows can be specified with the exact astragal bar configuration to suit the era when your property was built. Victorian sash windows usually featured a single astragal bar on each window pane while Georgian windows were often separated into a six over six pane design.
When you want the best uPVC sash windows for your home, the Rose Collection is an excellent choice. For more information about any of our products or services call 01234 712 657 or contact us online.
Categories: uPVC Sash Windows