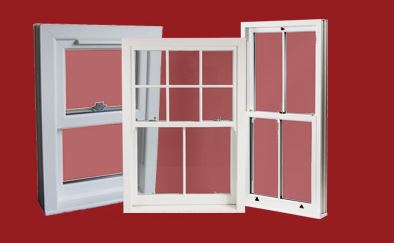 Sash Window Furniture and Accessories
Sash windows are a ubiquitous sight in period properties throughout the UK. From the Georgian period to the early 20th century, they were the window of choice for house builders and architects. In the 21st century, they have experienced a resurgence in popularity. uPVC sash windows are being specified for new build properties and used as tasteful replacements for poorly functioning timber originals.
SASH WINDOW FURNITURE
Sash windows feature a wealth of accessories. From fasteners and locks to handles and frames, their unique design and choice of hardware often reflects the styles which were popular when the building was constructed. If you have sash windows in your home or you're thinking of installing uPVC sash windows, it's important to understand as much as possible about the look you want to create. A well specified sash window will complement a building's design and fit perfectly with the architectural aesthetic.
At the Rose Collection, we're passionate about sash windows. We've spent over 25 years developing our suite of uPVC sash windows. We understand the importance of authenticity and always strive to tastefully recreate the period detailing for which sash windows are renowned. With this in mind, we've compiled a definitive guide to sash window furniture. This is an in-depth resource which will help homeowners, installers, fabricators, and anyone interested in a valuable part of British history, to understand sash window furniture. Much of this information covers both old and new sash windows, not only the Rose Collection, so our modern windows may not have all of the listed furniture options available. 
SASH WINDOW FASTENERS AND LOCKS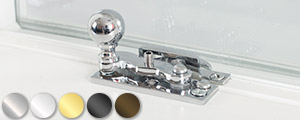 Home security is one of the most important considerations for UK homeowners. Understandably, we all want to protect our property and keep our family and possessions safe and secure. For a long time, sash window furniture had a poor reputation for security. Burglars were often able to force entry using a crow bar and a firm push. Today's sash windows are a world away from their original timber counterparts. Rose Collection sash windows are so secure that they achieve Secured by Design accreditation.
Sash window furniture such as fasteners and locks, however, aren't just there to protect your home. Choosing the right fasteners will enhance the overall aesthetic of your sash windows. It's always important to choose the best accessories to suit your home's style. These are the four options available for your sash window fasteners.
Quadrant Latch Fastener
Also known as an Arm fastener, it is a secure sash window locking system available in a range of styles including beehive, ball, acorn, reeded, and straight arm. One part is fixed to the lower sash frame and the other to the upper sash. When engaged, the keep helps to pull, lift, and align the meeting rails together. Popular throughout the Georgian and Victorian periods, it will perfectly complement a variety of period property types.
Brighton Fastener
The Brighton window fastener is perfect for narrow style window frames. On one side a sprung arm protrudes from the hardware and the other side features a receptacle for the sprung arm. To lock, the sprung toggle arm is pulled down and screwed into the keep. To unlock, when the knob is unscrewed, the arm automatically flips into the vertical position to allow the window to be opened.
Fitch Fastener
Perhaps the most common sash window fastener. The traditional Fitch fastener operates on a simple rotating system. A swivelling cam features a rising gradient lip which allows a firmer engagement the harder it is pushed. Fitch fasteners are usually available as a key locking version. A pin style key is inserted into a hole next to the swivelling cam to further improve security.
Claw Fastener
The Claw or Hook fastener works in a similar way to the Arm fastener. The hook or claw pulls the two meeting rails securely together but also allows for movement in height. It is available with a key locking mechanism which further restricts opening and boosts security.
SASH WINDOW FRAME DETAILING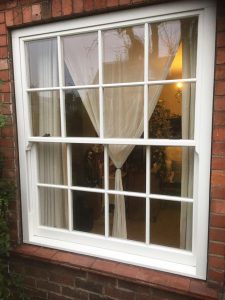 Although the window frame is an integral part of the window, it can be customised to suit a particular style of architecture. Certain period detailing can be specified after fabrication while others need to be integrated into the window's design. Here are the most important aspects of a sash window's frame to ensure it retains the classic heritage aesthetic.
Astragal Bars
Astragal or Georgian bars were originally used to support small separate glazing panels. With modern frames capable of supporting larger expanses of glass, they are now used purely for visual effect. As a general configuration guide, Georgian windows usually featured a six-panel grid design on both top and bottom sashes. Victorian windows favoured a two over two design. Edwardian windows combined the preceding era's styles with a six over two pane design. These bar arrangements are incredibly popular sash window furniture options.
Ovolo detail
Ovolo detailing is a curved design used by carpenters and common in classical architecture. It creates a soft border on the inner profile edge next to the glazing. It is used in the manufacture of uPVC sash windows to replicate traditional methods of timber joinery.
Putty Line Detail
Traditionally glass was held into timber sash windows using putty on the outside, which was chamfered at 45 degrees to allow water to run off. The most authentic modern sash windows (including Heritage Rose and Ultimate Rose) replicate this feature with chamfered putty lines on the outside.
Wood Effect Finishes
A realistic wood grain finish will perfectly complete your uPVC sash window. Choose from natural timber colours including Golden Oak and Rosewood, or a painted effect look with White or Cream.
Sash Horns
Sash horns are a key feature of traditional sash windows. This sash window furniture was originally used to strengthen the joints and limit the opening capacity. They are now a decorative essential. Rose Collection uPVC sash windows can be fabricated with integral run-through sash horns as part of the sash window furniture. Alternatively, they can feature clip-on sash horns which are added after the window has been made.
SASH WINDOW OPENING DEVICES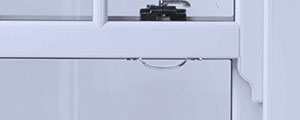 Opening your sash windows should be smooth and easy with only a small amount of natural resistance. There are several options available for opening your sash windows. The one you choose will depend on your style of property and which method you find most usable.
Sash lifts
A sash lift or hook is fitted onto the bottom movable sash. There are usually two sash lifts which face downwards and are operated by hooking your fingers underneath and lifting up the window. Sash lifts are often made from solid brass, polished brass, or polished chrome. They provide a simple but effective method of opening with limited chance of failure, making them great sash window furniture.
'D' Handles
D Handles resemble a regular door handle in design. They are fitted to the bottom of the top sash and are used to pull the top sash down and open. They are available in a range of lengths and provide perhaps the easiest method of opening your sash windows.
Sash Eye
This sash window furniture is discreetly attached to the inside rail of the top sash to allow it to be pulled down. The sash eye is a small cylindrical piece of metal (usually brass or chrome) featuring two holes. A sash cord or in some cases a sash pole is connected to the eye via the holes and used to pull open the window. The cord or pole can then be removed and stored nearby.
Sash Ring Lift
Sash ring lifts are used in a similar way to sash hooks. The rings are attached in a horizontal position, one on either side of the window's interior frame. They are then used to lift up the bottom sash using both hands.
SASH WINDOW CURTAINS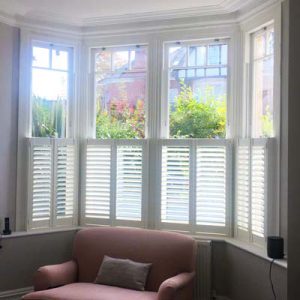 Not actually a part of the sash window itself, curtains are an essential accessory for any sash window installation. The right type of curtain will provide privacy, improve thermal efficiency, and complement a room's interior decoration and architectural style. Here are the main options for dressing your sash windows.
Voile Curtains
A great choice for living rooms or dining areas, particularly if the building is located on a busy street. Voile panels create privacy while allowing an abundance of natural light to enter the room. They are great for creating a light and airy living space and will perfectly complement the high-ceilinged design of many Victorian and Edwardian buildings.
Wooden Shutters
Embrace the continental style with café style timber shutters. They can be installed on the interior or exterior of your property and can be painted any colour you like. They provide complete blackout when necessary, will improve your home's heat retention, and add an extra layer of security to your windows. They'll help to keep a room cool in the hot summer months and can be made with a stable door design to allow for half opening.
Heavy duty floor length curtains
An extremely popular choice for sash window furniture. They create an opulent feeling to any room and can be chosen to match your interior decoration scheme. They are also a great insulator and when combined with a pelmet they'll be the perfect finishing touch to your sliding sash windows.
Blinds
Roller, Roman, Venetian, Vertical… Blinds are more popular than ever. It's perhaps no surprise as they provide privacy, protection from the sun and they also look great.
SASH WINDOW LIMIT STOPS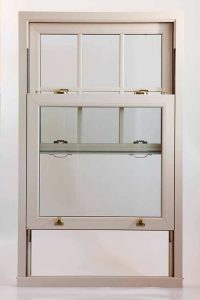 Sash window stops are installed onto the window frame to limit the window's opening capacity and to keep it securely closed. They act as both protection from forced entry and safety restriction from window falls. Limit stops are key lockable and provide peace of mind for security conscious homeowners.
Sharkfin
Sharkfin stops protrude from the interior of the top sash frame. They can be pushed in to allow full opening and are operated on a spring release system.
Rola
Rola limit stops are small barrels fixed into the inside face of the top sash, which stop the bottom sash moving beyond a certain distance. Typically the restriction is set to 100mm (or four inches). They are disengaged by unscrewing them with an allen key and removing from the window completely, and then screwing them back in to reengage them. This makes them less versatile than other types of limit stop, such as sharkfins.
We hope you have found this guide useful and informative, and you now have all the information you need to successfully accessorise your sash windows. If you live in a period property and you're considering replacing your original timber sash windows with uPVC alternatives, contact the Rose Collection today. For more information on our range of authentic uPVC sash windows, please take a look at our window designer or give us a call on 01234 712 657.
Categories: uPVC Sash Windows