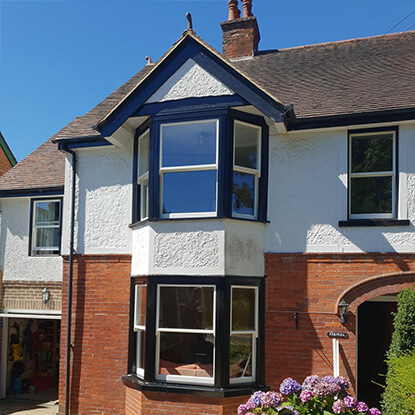 The Rose Collection: traditional aesthetics/modern performance
Do you live in a period property? Do you love the style and character of your home but you're fed up with the excessive maintenance levels and the poor performance of some of your home's fittings? Would you like to bring your home into the 21st century in terms of energy efficiency performance while retaining its traditional aesthetic? If so, you've come to the right place.
Traditional aesthetics
To create the most authentic uPVC sash windows, attention to detail is the all-important factor. Rose Collection sash windows are designed to replicate the distinctive features of timber sash windows. Over 40 years of research and development have gone into creating the UK's leading timber alternative sash windows. The Ultimate Rose, for example, features a wealth of period detailing to ensure a highly authentic appearance. Some of these include:
Run-through sash horns – The Ultimate Rose incorporates run-through sash horns. They are an integral part of the window's design, ensuring a truly authentic look.
Putty line effect – Putty line detailing enhances the slimline timber-style appearance of the window's frame. It helps to tastefully retain the original character of the property.
Authentic astragal bars – Astragal bars were originally used in the 17th and 18th centuries when glass production limited the size of window panes available. They create a distinctive look to a building which is perfectly replicated with our authentic selection of astragal bar configurations.
Depending on the era your property was built, we can create sash windows to suit your home's individual aesthetic. From the Georgian period to the early 20th century, Rose Collection sash windows can uphold the heritage look of any period home.
Modern Performance
Perhaps the two most important requirements for a modern homeowner are home security and thermal performance. Let's face it, we all want to feel safe and secure in our homes and enjoy a warm and comfortable home without sky-high heating bills. To help you achieve these essential requirements, Rose Collection sash windows are designed with the 21st century homeowner in mind.
In terms of security, Rose Collection sash windows achieve some of the industry's highest standards. High security locking systems are standard on all models with most windows having two locks incorporated into their design. You can choose laminated glazing to further enhance security and all models are available with PAS24/Part Q and Secured by Design accreditation.
When it comes to energy efficiency, you can rest assured that Rose Collection sash windows will improve your home's performance. Every window in the Rose Collection, when fitted with the appropriate glazing, is 'A' rated for energy efficiency. This will help to retain any warmth generated in your home, creating a more comfortable living environment and helping you to make considerable savings on reduced heating bills.
If you'd like to find out more about the Rose Collection, get in touch today. Give us a call on 01234 712 657 or contact us online.
Categories: uPVC Sash Windows