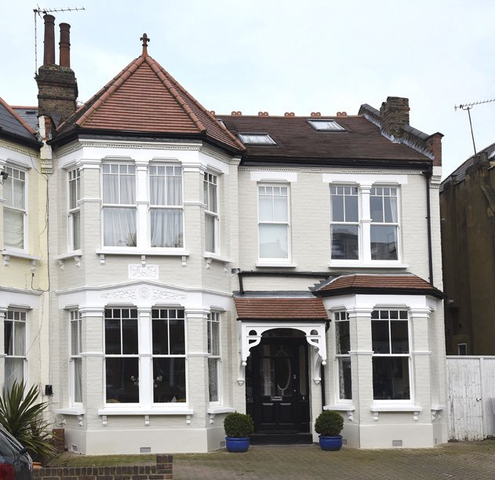 Ultimate Rose: The pinnacle of uPVC sash window technology
Traditional sash windows have a unique style all of their own. When developing a window to faithfully replicate the traditional timber aesthetic, it's important to ensure that all the details are correct. Using the latest modern technology, the sash window experts at Roseview Windows have created the Ultimate Rose. The Ultimate Rose is the most authentic uPVC sash window on the market. It perfectly combines modern performance with traditional aesthetics to create a truly outstanding sash window.
Ultimate Rose: authentically designed
The Ultimate Rose is the premium sash window in the Rose Collection. To guarantee the most authentic appearance, the Ultimate Rose incorporates an abundance of period features. These include:
35mm meeting stile
Run-through sash horns
Realistic woodgrain finishes
Deep bottom rail
Globe hook locks
Putty line profile detail
With a range of optional extras including 85mm slim mullions and arched heads, the Ultimate Rose really is the pinnacle of uPVC sash window technology.
Raise your standard of living with the Ultimate Rose
The Ultimate Rose sash windows are WER (Window Energy Rating) 'A' rated as standard. This can help you, the homeowner, make significant reductions on your home heating bills and enjoy a more comfortable living environment. Improving your home's energy efficiency performance is also great for the environment. The more efficient your windows, the lower your carbon footprint will be, helping you to do your bit to protect the planet.
In terms of up-keep, all uPVC sash windows from the Rose Collection are extremely easy to maintain. With timber windows, you'll probably need to re-paint them every five years. Over the life span of the window this is both time consuming and costly. With Rose Collection uPVC sash windows, all they require is an occasional wipe down with warm soapy water to keep them in tip-top condition. This will help to save you a considerable amount of time and money in the long run.
The Ultimate Rose is undoubtably the most authentic uPVC sash window on the market today. If you're thinking about replacing your windows and you'd like to find out more about the Rose Collection, contact us today. For more information about our range of uPVC sash windows call 01234 712 657 or send us a message online.
Categories: uPVC Sash Windows