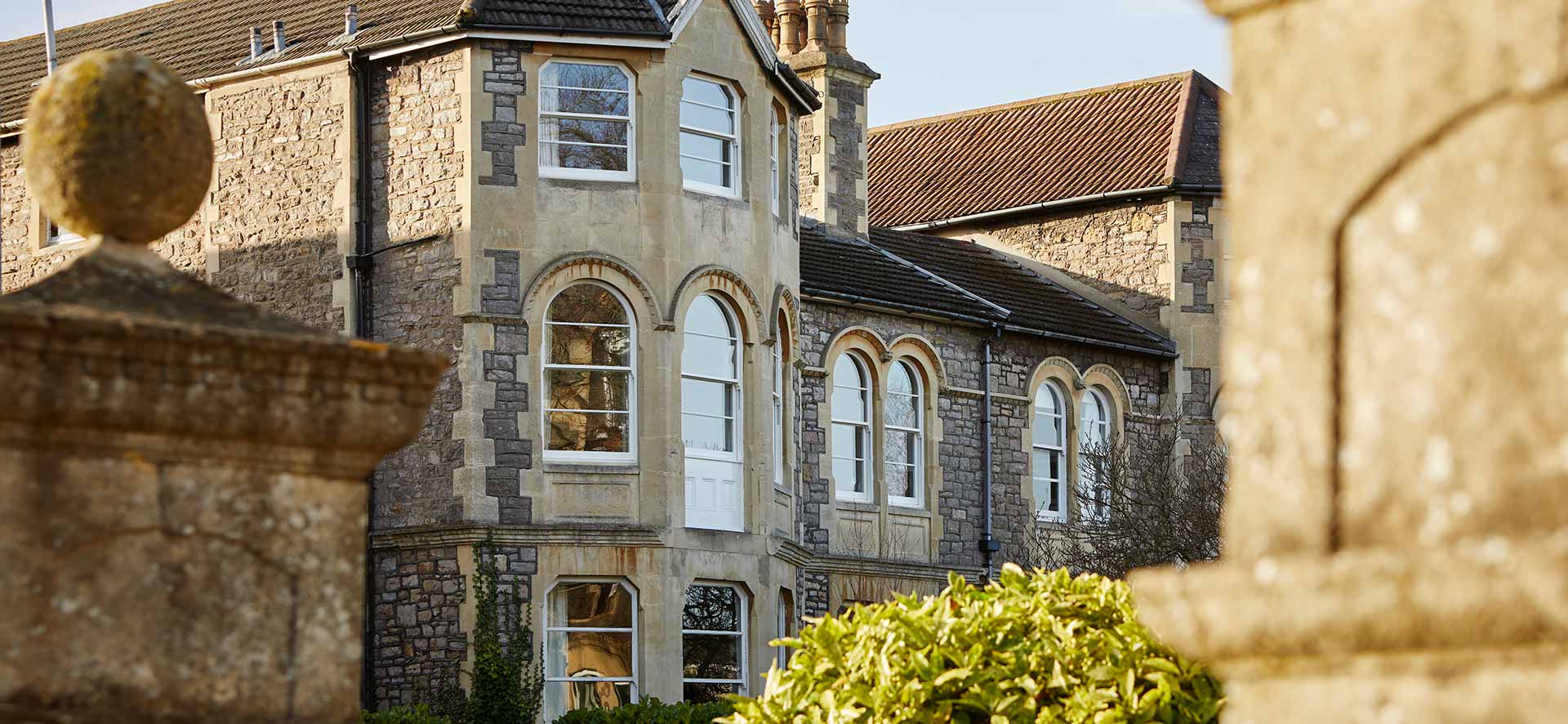 What Makes An Authentic Sash Window?
As you spend time reading up online about double glazing and sash windows, you may have heard the phrase 'authentic sash window' pop up a few times. But what exactly does this mean and what exactly does it entail?
Traditionally, sash windows were constructed using timber. When we refer to an authentic sash window, we are talking about the original sash window designs that were installed in traditional homes in the Victorian, Edwardian and Georgian eras. If your property is from one of these eras or has been inspired by other similar periods, it can be essential to emulate the appearance of an authentic sash window when you choose to upgrade your home with double glazing and uPVC.
Homeowners and property owners are often concerned that choosing uPVC means they have to compromise on the traditional detailing of authentic sash windows. Luckily, our Rose Collection has been in development for over 30 years, and we have dedicated ourselves to perfectly emulating the appearance of authentic sash windows. The success of our craftsmanship is in the details.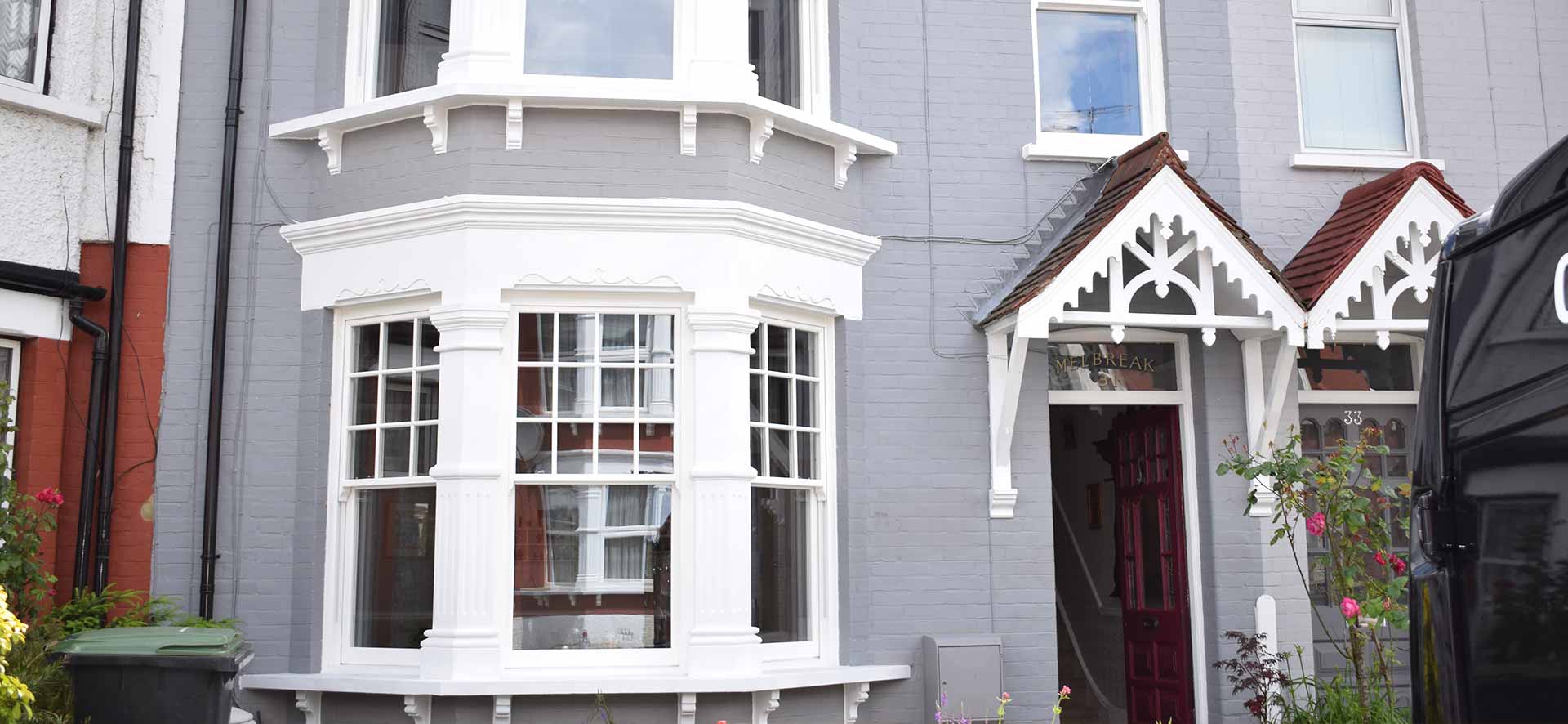 Stunning Slimline Profiles
Our stunning Ultimate and Heritage sash windows are manufactured using the highest quality materials from REHAU. They are one of Europe's most well respected and renowned uPVC suppliers. Their bespoke Heritage system allows us to recreate the traditional appearance of original timber windows. Slimline profiles are a vital detail of authentic sash windows, and our profiles are so authentic, they are almost indistinguishable from real wood.
High Quality Balances
Having quality balances in your sash windows is one of the most important and most authentic elements. A sash balance is a spring loaded device that is used to counterbalance a sash in a box sash window. This allows the window sashes to glide up and down smoothly.
Other manufacturers often overlook this. However, our Charisma Rose sliding sash window features innovative spring and spiral balances. There is also a unique tilt facility of both the upper and lower sashes to enable wide opening and easy cleaning access.
Traditional Window Furniture
We pay extra attention to ensuring our sash windows have the most authentic detailing possible. Therefore, the perfect finishing touch to any authentic sash windows in traditional window furniture. Sash ropes, pulley and handles provide a classic, heritage aesthetic, giving our collection a real feel of authenticity. The Ultimate Rose features 'globe claw' window furniture – a heritage look sash hook fastener. Choose from a variety of lifts, loops and locks to complete your sash windows.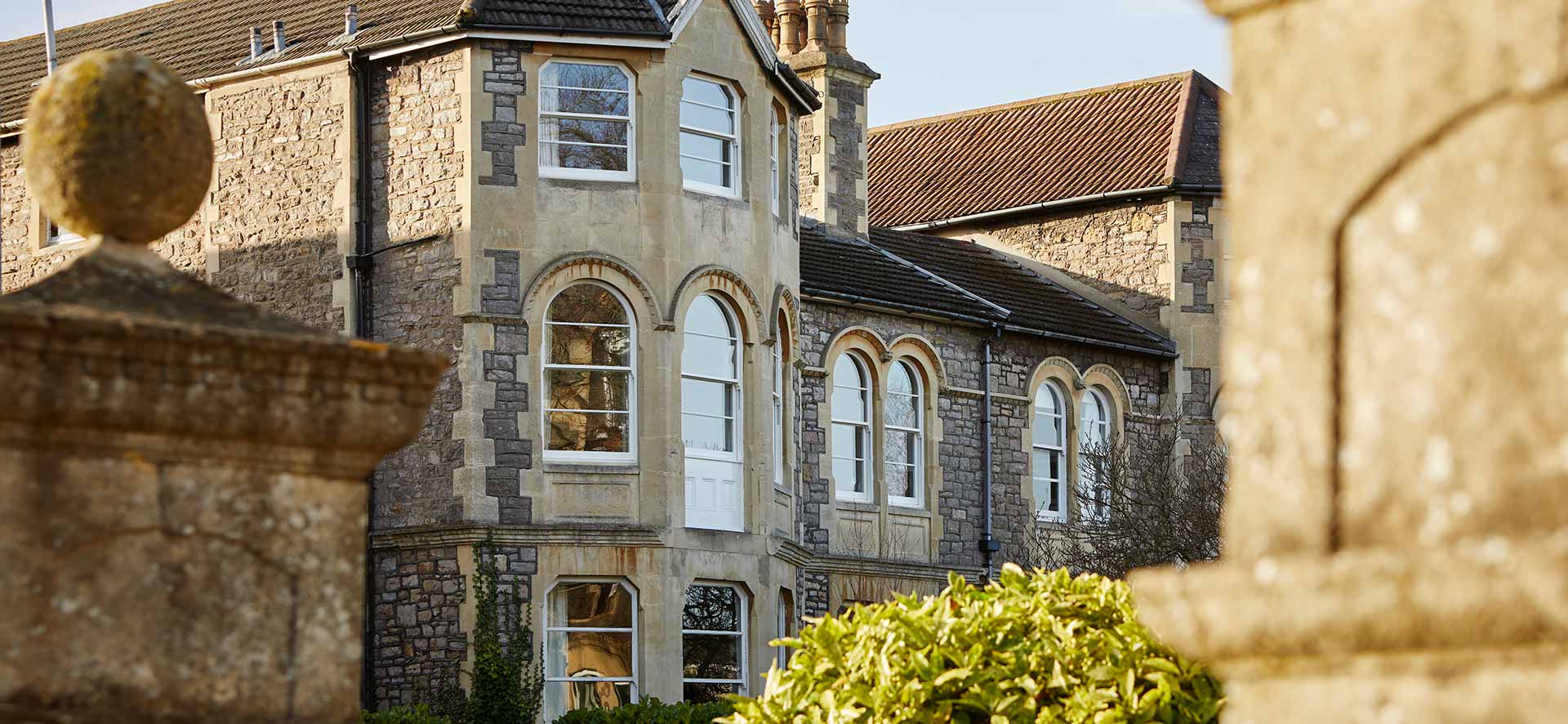 Mechanical Joinery & Deep Bottom Rail
Our Ultimate Rose sash window is the most authentic in our collection. Every element of this design pays homage to original timber sash windows, so much so that it is indistinguishable from an original.
Traditional timber sash windows were created with mechanical joints. Therefore, our Ultimate Rose has been crafted using authentic joinery methods. This not only makes our design unique but creates robust corner joints that look and feel authentic.
Furthermore, our Heritage and Ultimate Rose feature a deep bottom rail. At 81mm, the bottom rail is twice as thick as standard – an authentic replica of traditional timber sash windows. This deep rail accentuates the slim lines of the mid rail and glazing bar and creates a truly genuine aesthetic.
Astragal bars
This is undoubtedly one of the most defining features of authentic sash windows. Astragal bars are the thin strips that divide the glass panes into sections. They are placed on to the window glazing both internally and externally. This feature was originally used to support the glazing, and now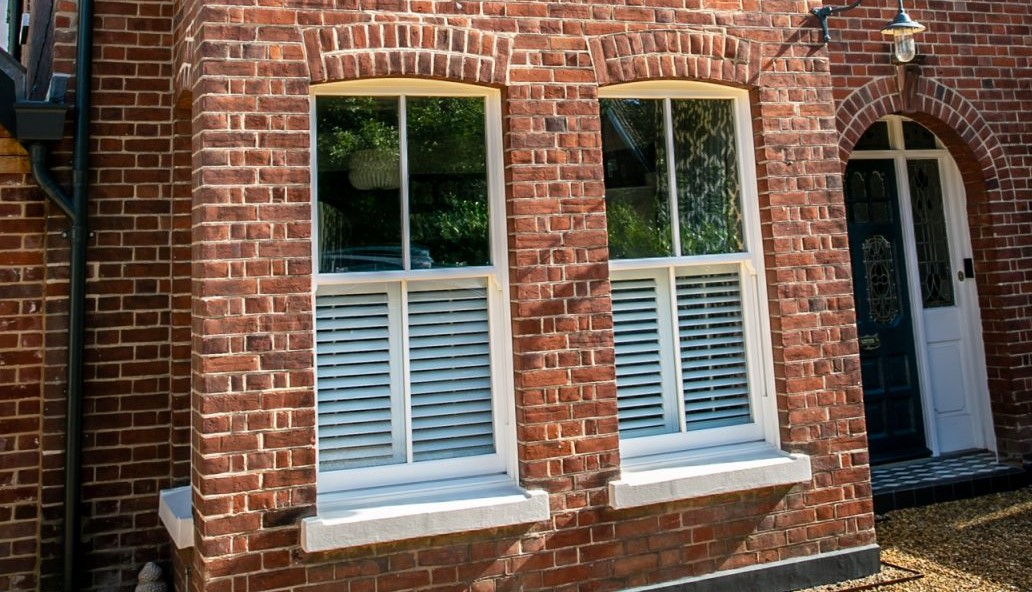 Run Through Sash Horns
Each window in the Rose Collection features sash horns which have been integrated into the uPVC sash. Our Heritage and Ultimate Rose boast run through sash horns, an ornamental feature of original timber sash windows. This means that these designs both perfectly emulate this authentic sash window feature.
Putty Line Effect Detail
Another exceptional feature of authentic sash windows is the detailed putty lines. Our sash windows are a cut above the rest as they have been designed with putty lines that perfectly replicate the original style of historical sash windows.
Original timber windows had their glazing fixed into the frame using a sloping putty line at a 45 degree angle. Our Ultimate Rose windows replicate this authentic detail. They will help retain your properties traditional appearance while improving it's weather resistance and optimising its thermal performance.
Authentic Sash Window Prices
If you are looking to gain a better idea of your authentic sash window costs, we have a fantastic online pricing tool which allows you to get an instant price for your sash windows based on your specifications. It is completely free to use, and the prices are fully comprehensive.
If you have any questions about authentic sash windows, please feel free to give us a call on 01234 712 657 or use our online contact form. One of our sash window experts will be in touch to help you!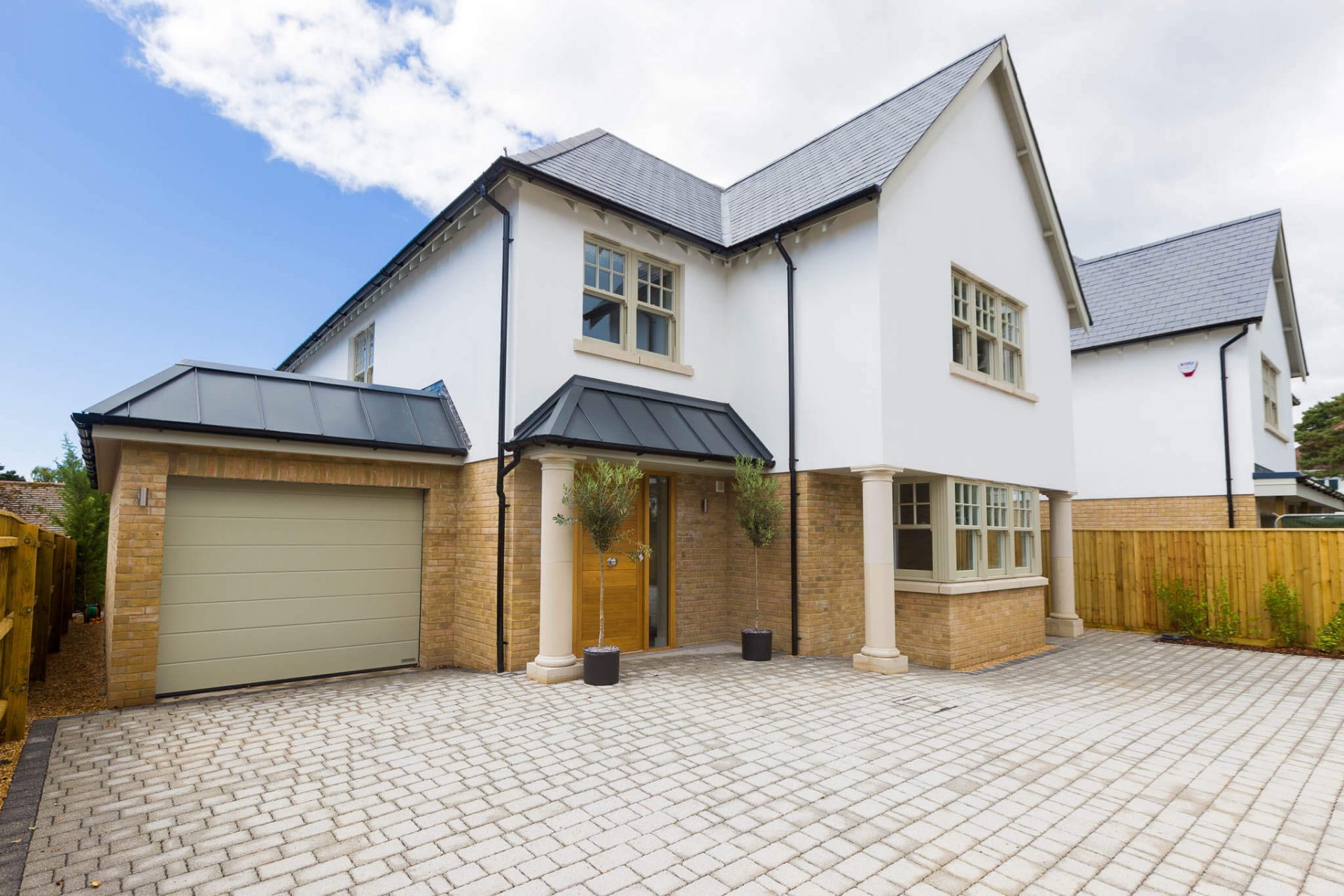 Categories: uPVC Sash Windows