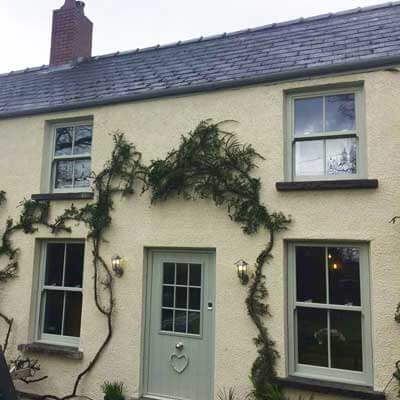 When it comes to colour, everyone has their favourite. Whether you prefer a bold red or green or a pastel shade or neutral tone, your personal colour preference will greatly influence the colour you'd like for your windows. When choosing your window trim colour, it's important to consider how it will fit in with your property's overall aesthetic. The wrong choice could have a negative impact on your home's appearance and even affect its value.
The Rose Collection sash windows are made from high quality Eurocell and Rehau profiles. Both profiles are available in an extensive range of colours with your choice of a solid finish or realistic woodgrain effect. Eurocell profiles can also be factory sprayed with any RAL colour for the ultimate in customisation.
Traditional timber colours for an authentic finish
When you want to emulate the appearance of natural wood which has been stained with a clear varnish, there are several options available. Irish Oak and Golden Oak are at the lighter end of the spectrum, providing a vibrant look to your window trim. If you want a deeper shade, Rosewood, Walnut, or Mahogany add class and character to any period home.
Traditional timber windows were often painted white or cream for a clean, bright, and understated look. Whether you choose the Charisma, Heritage, or Ultimate Rose sash windows, there are numerous shades to choose from across the lighter cream, white and magnolia range.
Create a unique look to your home
If your property is not restricted by planning regulations, you may wish to choose a more individual colour for your sash window trim. A bold and vibrant colour will add individuality to your home, boost kerb appeal, and really make your home stand out from your neighbours.
Ruby Red, Racing Green, and Brilliant Blue are all available from the Rehau Statement Collection and they really will make a statement out of your home. If you want something slightly different but more understated, Chartwell Green is a popular choice while Anthracite Grey is very fashionable, great for creating a contemporary look which will suit almost any type of property.
The Rose Collection sash windows are designed to replicate traditional timber sash windows. This doesn't mean that you can't personalise your window's trim, frame, and accessories. If you'd like advice on the best colour to suit your home's aesthetic contact the Rose Collection today. We have decades of industry experience and can provide impartial advice on the best colour for you to choose.
Give us a call on 01234 712 657 or send us a message on line for more information about any of our products and services.