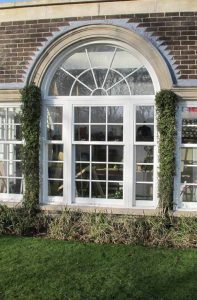 Many properties in the UK still have traditional single glazed sash windows, some heritage properties still even retain their original timber frames. At Roseview we pride ourselves on being able to provide the most authentic uPVC sash window on the market, meaning that no matter what type of property you reside in, our windows will suit.
Throughout the past couple of decades, uPVC has proved time and time again that it has more than outpaced its timber counterpart, providing many more valued features that modern homeowners continue to appreciate.
The luxury aesthetics of timber with the modern features of uPVC
The Charisma, Heritage and Ultimate Rose uPVC sash windows from our collection utilise authentic features to project a look conventionally found in an original timber sash window still found in traditional properties.
Rather than simply sticking to the sash, our run-through horns for example are incorporated into the original structure of the window, making sure it never fails to give your sash the luxurious appearance of a timber window without any of their drawbacks.
Modern uPVC sash windows can also be coloured to any desired wood-effect colour, ensuring that any property successfully retains authentic visuals despite not being constructed from timber. Coloured woodgrain foils successfully enhance the traditional appearance of any window, still allowing you to experience full warmth and security in your home.
Energy efficient and low maintenance
Today's uPVC sash windows are more effective at incorporating thicker methods of glazing. Whereas original timber windows were only single glazed, a uPVC sliding sash window provides homeowners with an option of having their sash double glazed for increased warmth and energy efficiency. This results in lower U-values which can help lower the cost of energy bills.
uPVC vertical sliding sash windows are also extremely low maintenance when compared to their timber alternative, not requiring regular varnishing or painting to maintain a clean appearance. When choosing a sash window from our premium rose collection, if the frame should ever get dusty or dirtied, simply wipe down for a window that looks as clean as the day it was fitted.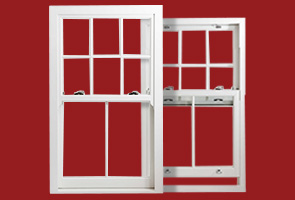 Breakdown of many more advantages
Remains much more cost-effective compared to timber
Much more versatile building material
Extremely thermally efficient and less prone to draughts
uPVC not prone to insect interference or knots
Sash windows from Roseview regularly approved for conservation areas
The authentic uPVC sash experts
Roseview have roughly 40 years' experience providing UK homeowners with authentic looking and modern functioning uPVC sash windows. Our premium collection of Rose windows is available in three window variations to always ensure there is one suitable for both your home and budget.
We are well known in the industry for supplying homeowners with the highest quality of uPVC sash windows, proving time and time again that the authentic sash window aesthetics can be achieved whilst still ensuring that they offer 21st century developments. Contact us today!