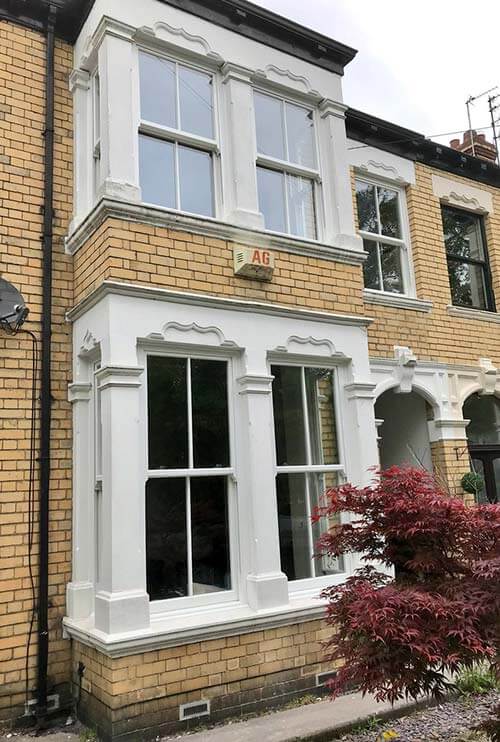 Across the UK, there are thousands of properties which still have single glazed sash windows. With their timber frames and slim sightlines, they are part of our national heritage. Unfortunately, single glazed sash windows don't provide the required levels of performance expected from a 21st century homeowner. They struggle to retain heat and block external noise, and can be a security risk. They also require a lot of difficult and costly maintenance, changing windows can be difficult to fit into your busy lifestyle but it's definitely worth it.
When it's time to replace your old sash windows, the most important consideration to make is what you will choose as the window replacement? Whether you choose uPVC or timber for your sash window replacement is ultimately up to you. To help you to make a fully informed decision, let's take a closer look at the benefits of both.
uPVC vs timber: thermal efficiency
Perhaps the biggest benefit of installing uPVC sash windows is their ability to reduce heat loss. All windows in the Rose Collection are rated A for energy efficiency. When you replace your old timber windows with Rose Collection sash windows you'll soon notice a big difference in your home's performance. Your home will better retain its heat, meaning that you'll use your heating less often or at a lower setting, helping you to make savings on your home heating bills.
It's not just your family who'll benefit from a more energy efficient home. By lowering your heating usage you'll reduce your home's carbon emissions thus limiting negative environmental impact and helping to protect the planet for future generations. You may not know this but uPVC is a 100% recyclable material. It can be re-formed and re-used up to ten times without losing any of its quality. Modern timber windows on the other hand, may provide good levels of thermal efficiency but sourcing the material can have a negative impact on the natural world if not sustainably sourced.
The importance of an attractive aesthetic
Natural timber window frames have a beauty all of their own, with the timber look an integral part of a period property's heritage aesthetic. When you don't want to compromise on the appearance of your home but equally don't want the high maintenance of wood, the Rose Collection Ultimate Rose could be the perfect solution.
Our Ultimate Rose uPVC sash windows are designed to fully and tastefully replicate the style of original timber sash windows. To do this, they feature an authentic wood grain effect finish which is almost indistinguishable from timber. They have been approved for use in conservation areas across the UK and unlike timber, you'll never need to sand, re-paint and varnish them again.
uPVC sash windows are an excellent option when replacing your sash windows. If you'd like more information about the Rose Collection get in touch today. Give us a call on 01234 712 657 or contact us online.