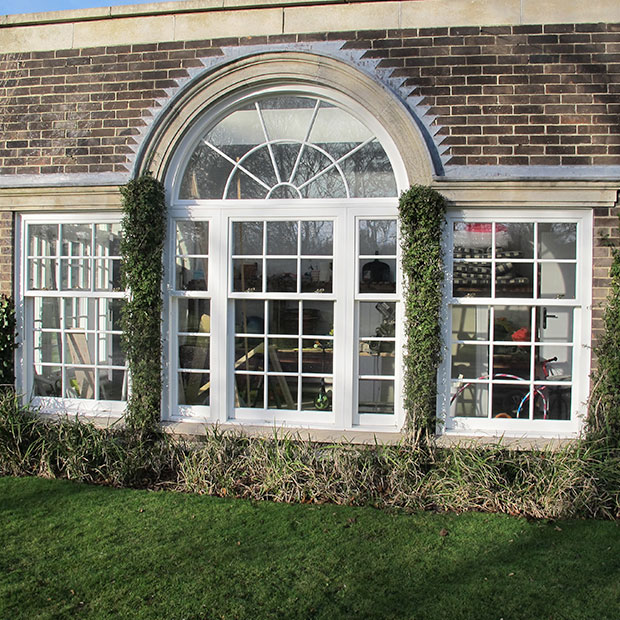 Do you live in a period property? Are you planning any home improvements? Would you like to replace your failing timber windows with an authentic and high-performing modern alternative? Are you concerned that you won't be able to find a bespoke design to meet your home's requirements? If so, you've come to the right place.
Bespoke sash windows to meet any design requirements
If you live in a property which is unusual in any way, we can design replacement sash windows to meet your exact specifications. Whether you require arched topped windows, combination windows, coloured glass or coloured frames, we'll endeavour to design a window which is the perfect match for you. The Rose Collection sash windows aren't 'off-the-shelf'. Each window is designed and built to the homeowner's exact requirements to ensure the perfect window for every installation.
The Rose Collection uPVC sash windows have been installed on many different property types. From Georgian, Victorian and Edwardian period properties to 1920s and 30s early 21st century homes, the Rose Collection offers homeowners an attention to detail unrivalled in the glazing industry.
Try out our free online designer
If you're interested in the Rose Collection, the first step is to use our free online designer to get a real idea of what your windows will look like. The online designer is easy to use; all you need to do is follow the steps to see what your new windows will look like. First, select your preferred Rose Collection window model. Next, choose your colour and add any astragal bars, window furniture and select the most suitable glazing.
Finally, tell us how many windows you require, their size and where they are located on your home. Once you are happy with all the information, submit your design to us for a free no obligation quote. It's important to remember that the more accurate the information which you provide, the more accurately we will be able to provide a quote.
To find out more about the Rose Collection or to discuss a more unusual window design, you can contact us directly. Call us on 01234 712 657 or send us a message online and we'll endeavour to answer any questions which you may have.